Full Automatic PET / Glass Bottle Production Line , Carbonated Beverage Filling Machine
Equipment is mainly used for plastic bottle filling containing carbonated and non-carbonated beverages, will rinse bottle, filling and capping feature set in one device, the whole process adopts PLC intelligent control, perfect and cohesion, and reduced in the middle of the conveyor belt, energy consumption, while reducing the cost and improve the efficiency of production…
We're here to help:
Easy ways to get the answers you need.
Overview
| | | | |
| --- | --- | --- | --- |
| Type: | Glass Bottle Filling Machine | Condition: | New |
| Application: | Apparel, Beverage, Chemical, Commodity, Food, Machinery & Hardware, Medical, Textiles | Packaging Material: | Glass, Metal, Paper, Plastic |
| Automatic Grade: | Automatic | Driven Type: | Electric |
| Machine Capicity: | 2000-24000bph (Customized) | Bottle Volume: | 100-2500ml (Customized) |
| Bottle Type: | Round Or Square | Working Time: | Normally Used 8 To 10 Years |
Full Automatic PET / Glass Bottle Production Line , Carbonated Beverage Filling Machine
Advantages

All parts that are in contact with the beverage are polished to a smooth, easy to clean surface with a stainless steel surface, and there is no secondary pollution.
The sealing material is ethylene propylene rubber, which ensures that the seal is sealed and not contaminated by the entry in the air.
Using PLC as the center control, the pressure transmitter and electromagnetic pneumatic valve are used to measure the liquid level to keep the filling pressure balance, ensuring the stability of the liquid level, high precision and accuracy.
New filling valve designed for plastic bottle. The backflow air and liquid are insulated in the tank to ensure the cleaning of the filling beverage and to prevent contaminants and bacteria from entering the air.
Adopt advanced magnet clutch, adjustable torque, ensure safe and reliable cover.
Spray washing design, save water, cleaner.
Product Description
Equipment is mainly used for plastic bottle filling containing carbonated and non-carbonated beverages, will rinse bottle, filling and capping feature set in one device, the whole process adopts PLC intelligent control, perfect and cohesion, and reduced in the middle of the conveyor belt, energy consumption, while reducing the cost and improve the efficiency of production…
Technical Parameters
Model

CGFR

16-12-6

CGFR

18-18-6

CGFR

24-24-8

CGFR

32-32-10

CGFR

40-40-12

CGFR

50-50-15

Washing NO
16
18
24
32
40
50
Filling NO
12
18
24
32
40
50
Capping NO
6
6
8
10
12
15
Production Capacity (500ml)
5000BPH
6000
8000
12000
15000
18000
Install Capacity (kw)
3.5
4
4.8
7.6
8.3
9.6
Overall Size

2450*1800

*2400

2650*1900

*2400

2900*2100

*2400

4100*2400

*2400

4550*2650

*2400

5450*3210

*2400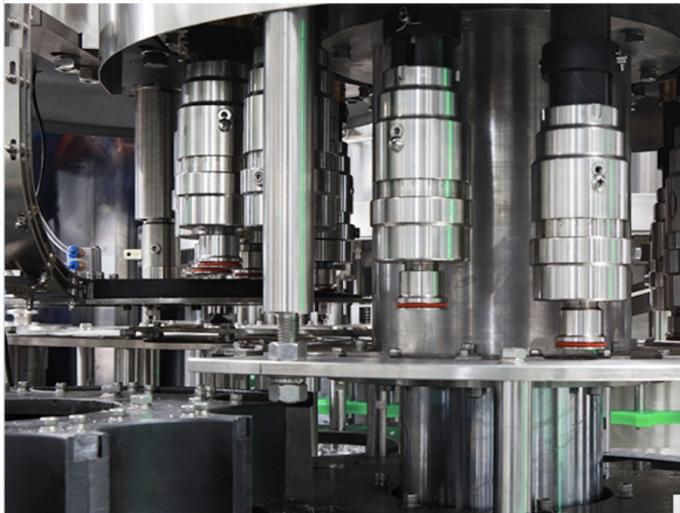 To provide customers with pre-project planning workshop and design, to help you design the workshop that is convenient to run, and avoid anti-work.
The experienced engineers and technicians are responsible for the installation and commissioning of the equipment to ensure the normal production and to solve your superior.
It has one year's wear parts when the equipment is shipped. In addition, we have prepared sufficient spare parts for inventory, and customers need to repair and repair spare parts at any time, which can be supplied quickly, so that you can not worry about the replacement of parts.
In order to ensure your technical personnel familiar with the performance of the equipment, correct operation and maintenance procedures, control equipment, provide on-site technical training, to facilitate customers faster familiar with the operation process of equipment at the same time, when faced with common problems to solve
Inquiry